May 23 – August 12, 2022
This page is for continuing students from the school year, as well as those students who have taken a trial lesson and have decided to enroll for lessons during the summer.
Season-Ending Recital
The t-shirt, shorts, and flip-flops recital is on Friday, August 12 at 5 pm in the Chapel at Central Methodist in Rogers. Entrance for the recital will be on the east side of the building, using the After Hours entrance.
Dress Code: Dress for the t-shirt, shorts, and flip-flops recital is pretty self-described, though you don't have to wear a t-shirt and shorts if it's not your thing. However, your choice of footwear will come into play for a contest, so choose carefully! The contest is open for both online and in-person participants.
I'm also collecting recordings from vacationing families and online-only students for an online event that will combine the live recital with the recordings. That date is still being determined, because I need to also allow time to prepare for my own organ recital two days following the student recital.
My Schedule
I am teaching from Monday to Thursday during the summer term, but I am taking off two national Monday holidays: Memorial Day (May 30th) and the Fourth of July. I am offering lots of slots earlier in the day as well. I can also offer early evening slots, though I will only open them on request. I'm trying to avoid having lots of empty slots between lessons, especially in the evening.
Pricing
Prices are about the same as they have been this past year. I tweaked the pricing of 40- and 45-minute lessons to round to even dollars versus the straight 5% discounts mentioned in my policy.
I'm offering longer-lesson discounts to all students. During the school year, I only offer those discounts to those who take 4 or more lessons during the previous summer term.
Lesson prices are as follows for the summer term (May 23rd – August 12th):
30 minutes: $28
40 minutes: $36
45 minutes: $40
Notice the new time slot of 40 minutes. I'm encouraging any of my regularly practicing intermediate students to try this longer length of time. If I find it's popular, I may add it as an option for the fall. That is a compromise to jumping straight to a 45-minute slot versus staying at 30 minutes.
Billing
Please fill out the form at the bottom of this page. You can choose to take 4, 6, or 8 lessons, with an additional 5% discount provided to students committing to 8 lessons or more over the summer. If you think you'll take an odd number of lessons, or you're not sure if you'll take 4 or 6 lessons, for example, just sign up for the lower even number.
Please also let me know whether you wish to pay for that commitment all at once, in June, or split the billing across June and July.
I will bill you at the beginning of the month using MMS, based on your commitment towards lessons, versus the actual lessons you schedule. As the summer progresses, I'll start to reconcile whether you are on track with your lesson commitment. I'll let you know if you need to schedule additional lessons, or if you may exceed your paid commitment.
Discounts
If you take advantage of any of my discounts, whether it be for longer lessons, and/or for purchasing an 8-pack, please use a Preferred Payment Methods that doesn't discount the amount I receive further!
I understand that Venmo is super convenient. However, each transaction takes about 2% off the top of the already generous discounts I've provided.
Please Commit to Summer Lessons Below
Please Continue…
Once you fill in this form, please continue reading to schedule your lessons in MyMusicStaff.
Use MMS to Choose Your Time Slot
Please select a fixed day/time to serve as your regular lesson for the summer term. Certain lesson times may not be available every week, since some students have already started booking. However, many recurring time slots are still available.
You may choose a recurring slot, then cancel the weeks you will be on vacation. Or, you can let me know when you will be away and I can cancel your lessons for you.
MyMusicStaff Access
Verify Your Lesson Schedule
Once you set up your lessons, you can verify your choices through MMS. This screenshot shows how to set up an attendance report in just several clicks.
The most important clicks are to the icon on the left vertical ribbon bar and to set the date to the end of the summer term to see all of the previously scheduled dates. All the rest is really window dressing.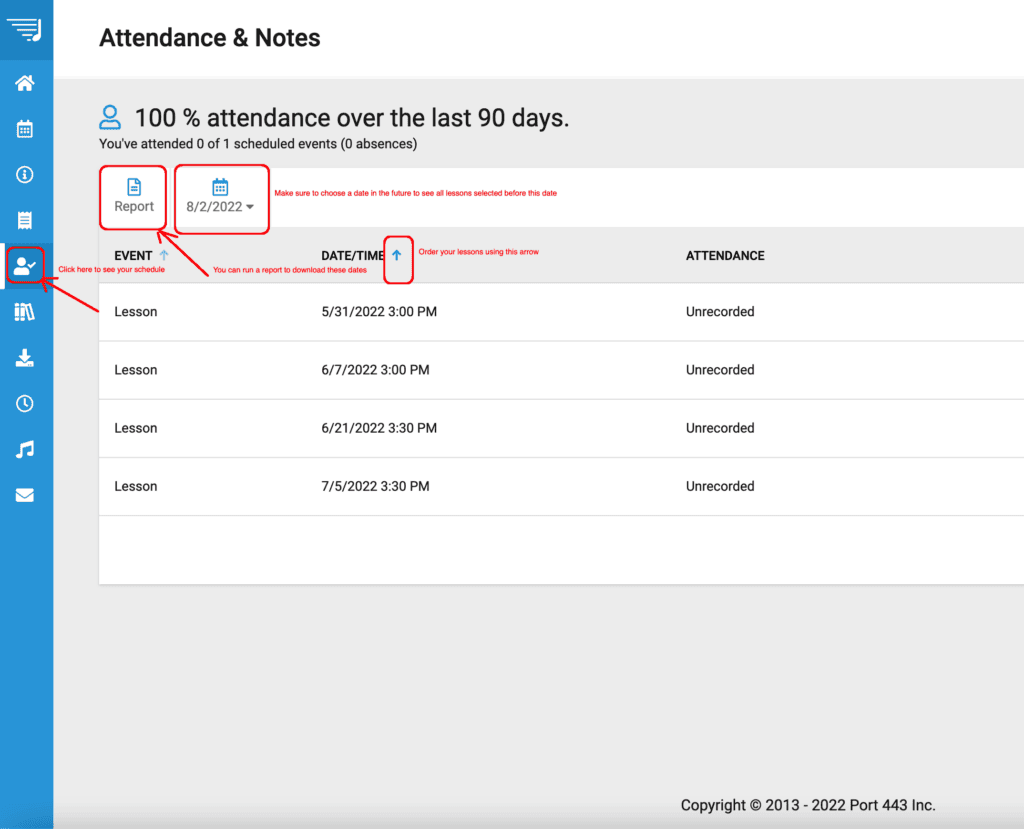 What if I Under or Over Commit?
If you end up taking more lessons than you anticipated, they will be added to either your July or August bill. I'm trying to avoid billing any summer lessons during August unless you exceed your commitment.
You have 11 weeks in which to schedule lessons to fulfill your commitment. If you take an extra vacation, you may double book in a particular week. If absolutely necessary, you may carry one lesson's value into the fall semester.
T-shirt, Shorts, and Flip-Flops Recital
The idea is in development, but the date has not yet been planned. We'll find out who is participating; it requires a minimum of 4 lessons over the summer term.
---
Last Updated 2022-05-28 | Originally Posted 2022-05-23